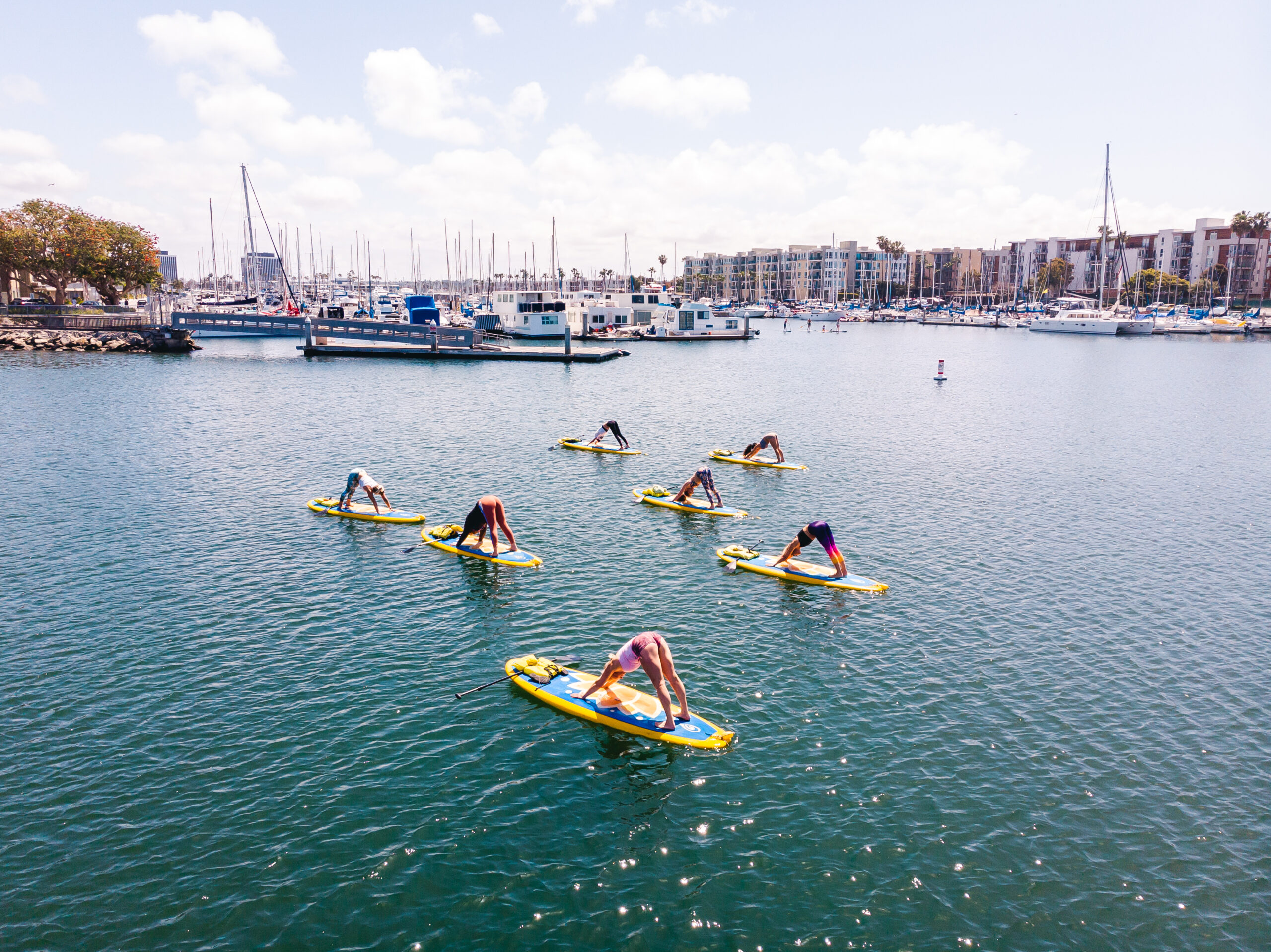 A YOGAqua class is 90 minutes long.  The first 30 minutes is dedicated to learning how to properly use a paddleboard and peacefully paddle around the harbor.  The remaining hour is dedicated to yoga on the paddleboard.  Each board has an individual anchor that is dropped down before the Yoga portion of class begins so that the student does not drift while focusing on their practice.
YOGAqua classes are open to "all levels".  Students are taken through a Vinyasa Yoga flow with customized and detailed instruction for the paddleboard so even if they have not been practicing yoga for years, or if they have never been on a paddleboard, they will be able to follow along successfully.
There is a 3 person minimum per class.  Should a class not meet the minimum attendance requirement, you will be contacted prior and asked to reschedule.
There is a 12 hour cancellation policy.  No refunds or reschedules will be made within 12 hours of the class start time.
New Student Special (single class) $35
Thursday
12:00pm-1:30pm SUP Yoga
3:30pm-5:00pm SUP Yoga
Friday
12:00pm-1:30pm SUP Yoga
3:30pm-5:00pm SUP Yoga
Saturday
9:00-10:30am SUP Yoga
11:00am-12:30am SUP Yoga
1:00pm-2:30pm SUP Yoga
3:30pm-5:00pm Sunset Paddle (no yoga)
Sunday
7:00am-8:30am Sunrise Paddle (no yoga)
9:00am-10:30am SUP Yoga
11:00am-12:30pm SUP Yoga
1:00pm-2:30pm SUP Yoga