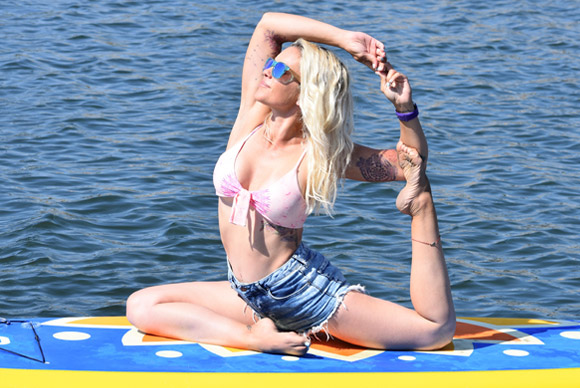 Sarah Tiefenthaler
Owner & Founder
Sarah Tiefenthaler, owner and founder of YOGAqua, completed her first 200-hour Yoga Teacher Training in the tropical jungles of Costa Rica where she focused intensely on the philosophy of Yoga as well as meditation practices. When she returned to Los Angeles, she completed her second 200-hour Yoga Teacher Training certification in Hollywood, CA at Earth's Power Yoga where she was able to expand her knowledge of human anatomy and alignment in relation to Yoga. After spending day after day in the magnificence of the Costa Rican jungle, Sarah still longed for any activity in which she could maintain a consistent presence in nature.When Sarah returned home from Costa Rica in 2010 she soon discovered her passion for Stand Up Paddleboarding (SUP); it was the perfect solution that would keep her out in nature, on the water, and under the sun. With her obvious passion for Yoga, it was not long before she began to experiment with Yoga poses on the boards which was just the spark that very quickly lead to the creation of her SUP Yoga company, YOGAqua. YOGAqua was launched on July 17th, 2011 and is based in Marina Del Rey, CA.
Sarah has since completed her third Yoga Teacher Training for 100 hours at Maha Yoga in Brentwood, CA. She offers SUP Yoga Teacher Training Certification courses four times per year as well as SUP Yoga Retreats at some of the most beautiful locations around the world. She is the SUP Yoga Program Coordinate for Wanderlust Yoga Festivals, a Reebok Athlete and a brand ambassador for BOGA Yoga Paddle Boards.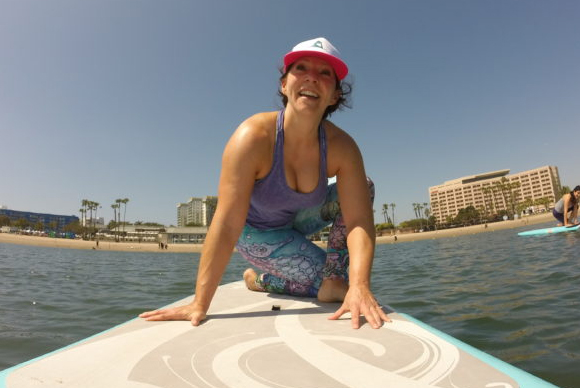 Stephanie Schwartz
Instructor
Stephanie Schwartz has always sought ways to bring balance, health, and fun into her life. Yoga has become an integral part of that process. It is a place where she can be herself, confident and comfortable in her body and its strength, along with its goofy inner core. A couple of years ago, on an adventure to the North Shore of Oahu, hiking with friends, Stephanie came across a floating yoga studio at a secluded beach. Intrigued, she carefully determined that no one was around, and quickly hopped on a board to play—and in a moment was hooked. Through a chance encounter with a yoga teacher who soon staked claim to the floating studio as her "office", a seed was planted. Back on the mainland, it took about a year before Stephanie found a local floating studio to make part of her regular practice—and subsequently learned that the owner, Sarah, was the same teacher she had crossed paths with a year before. The opportunity to join a YOGAqua teacher-training program presented itself a few months later and Stephanie never looked back. She is also a certified yoga instructor through the National Council for Personal Trainers (NCCPT). Most weekends you can find her practicing, playing and laughing in Marina Del Rey with the YOGAqua family.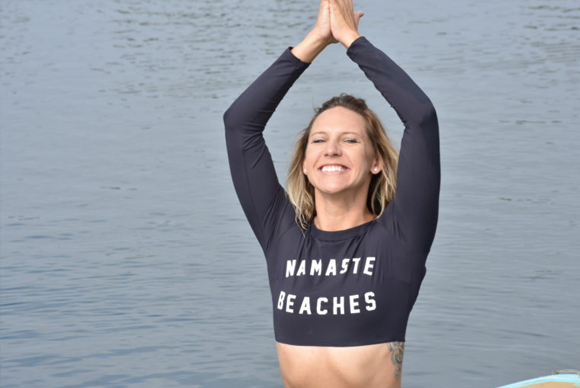 Growing up near the beautiful beaches of Southern California and Sydney, Australia, Karina Moore has always had a love for the ocean. As a child her passions included competitive swimming and gymnastics. Later in life she transitioned her workout to yoga (what she considers the adult version of gymnastics), which she has been practicing now for over 15 years.In 2012 Karina left Colorado and returned to her beachside roots, moving to sunny Redondo Beach, CA, where a neighbor introduced her to a standup paddleboard. Despite falling 3 times into the open ocean on her first foray, she was hooked. She felt a balance and stability that was both challenging and addicting. Countless days were spent embracing the cardio core workout of chasing sea lions, dolphins, and whales around the Pacific. One day a friend said "Did you know you can pair your two loves—yoga SUP?" She attended her first SUP Yoga class in 2013 and hasn't looked back. She has since been inspired to obtain her YOGAqua SUP Yoga teacher certification, as well as the RYT 200-hour teacher training certification during a month long retreat in Nicaragua. Balance on and off the mat (and board) is paramount to her. Karina leads classes with an inclusive approach, a heartwarming message, and a physical challenge that will leave you feeling accomplished.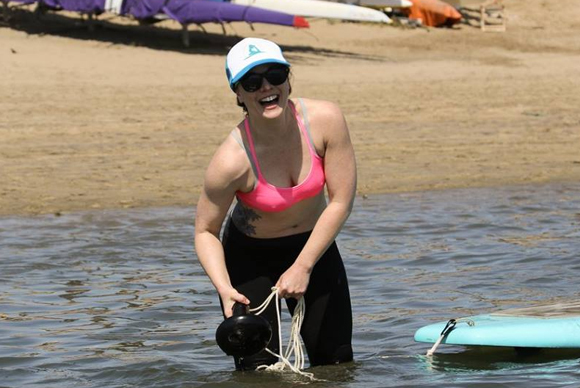 Courtney Regan has always lived and loved an active life. Growing up in Dearborn Michigan she was a dancer, competitive swimmer and played both basketball and softball. Her passion for athletics and movement took her to Tempe Arizona where she studied Kinesiology and Dance at Arizona State University. In a dance studio on campus Courtney took her first yoga class. It was hardly love at first down dog. In fact she giggled through half the class. A couple years later she gave yoga a second chance and found nirvana through asana. After years of personal practice Courtney decided to attend The Southwest Institute of Healing Arts and received her RYT 200. In the Summer of 2014 she decided to shake up her life and start a new adventure with a move to sunny Santa Monica. It was here, at Mothers Beach, she was introduced to SUP. She had never experienced such excitement and peace as she did on the board out in the water. It was time for a new adventure in 2016. She found YOGAqua and immediately registered to train with Sarah. Courtney's classes are a reflection of how she lives, balanced. Courtney enjoys teaching athletic classes that are mindfully sequenced for all levels of experience. She wants her students to find the same excitement and peace she does in her own practice. Most of all Courtney wants her students to find pure joy; on the water, in the sun, experiencing SUP yoga with YOGAqua!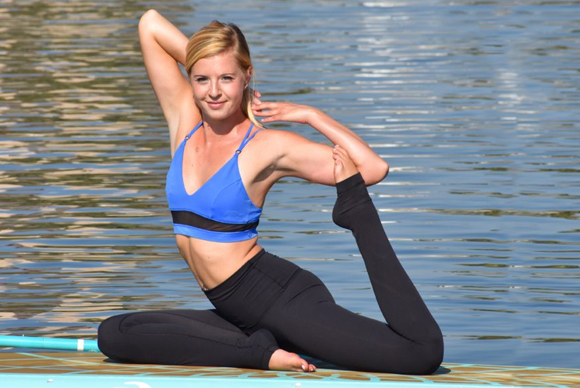 Small-town girl from Northern California, Allyson loves spending time being active in the outdoors hiking, running and biking. Allyson began her yoga practice after a running injury forced her to slow down and take a break from marathon training. Yoga offered that balance that was missing from her routine and needed in order to heal. It was during this time of transition she was also introduced to paddleboarding by a friend . Paddleboarding quickly became a new passion and right away she began working at an Aquatic Center so she could paddle as often as possible.
Before moving to Los Angeles she earned her Bachelor's of Science in Recreation, Parks and Tourism Administration from Sacramento State University and completed teacher training at YOGAqua in March 2017 followed by her 200 RYT through Yoga Alliance under Tamal Dodge in the Spring of 2018.
Now Allyson can't get enough of the water and spends every weekend assisting classes and teaches the sunset paddles on Friday evenings.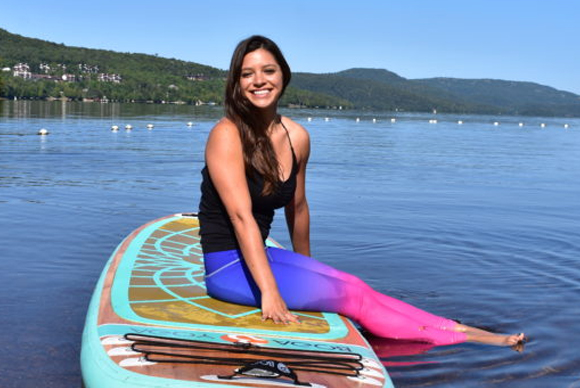 Emily Smith took her first yoga class in 2006 and hasn't looked back since. Believing strongly in the mind/body connection, she loves how SUP Yoga integrates both of these aspects on the water to calm the mind while challenging the body in a new environment. It's hard to stay in your monkey mind when you are worried about falling in! Considering herself a lifelong learner, she has multiple certifications which influence her playful teaching style. Emily has 200-RYT from YogaWorks, Pre/Post Natal yoga training, Children's yoga training, Urban Zen Integrative Therapy Level 1, and a Masters Degree in Clinical Psychology, in addition to her SUP Yoga training from YOGAqua. She is excited to share her practice of SUP Yoga with you in our beautiful harbor location!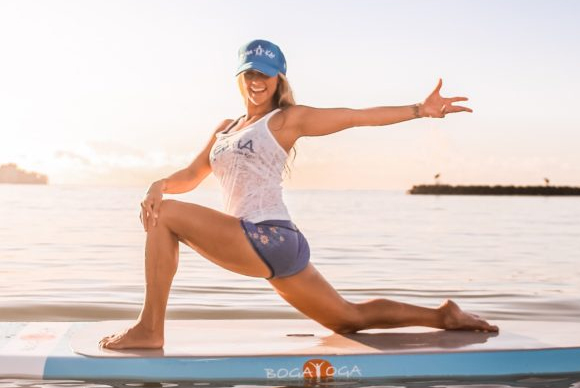 Leah Vernon completed her 200 hour training through Dancing Shiva Yoga and Ayurveda in Ventura, CA followed by a week of intensive training in Long Beach.
Just a few short months after her training, Leah and her family left for her husband's next 3.5 year military tour. This time, they were stationed on the beautiful Hawaiian island of O'ahu.
It was during that move that she fell in love with S.U.P. Yoga, completed a training on the mainland, and after returning to Hawai'i was inspired to start her own business, Yoga Kai.
Knowing her time on the island was precious, she led multiple classes daily, led numerous Yoga Kai teacher trainings each year, built a team of fun energetic yogis and helped grow the S.U.P. Yoga presence around Hawai'i.
Leah and her family were fortunate enough to get re stationed in what they consider their "home", Ventura, CA.
This move "home" was welcomed with the exciting opportunity to continue Leah's love of SUP Yoga with the YOGAqua family. Being on the water is her happy place and being able to experience that with YOGAqua is what she calls "Pure magic."
Leah aims to deliver a balance of fun and challenge in her classes while inspiring others to live happy and healthy lives. Her mantra for happiness and health is, "You can only keep what you have by giving it away."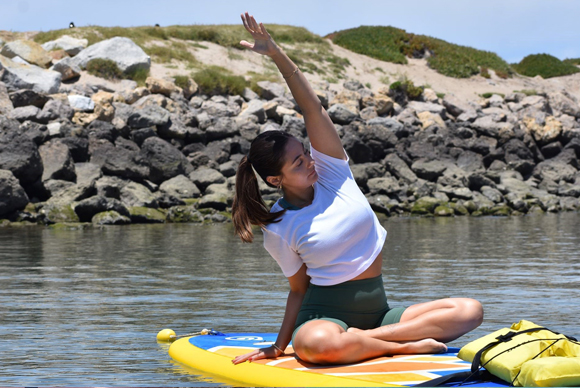 DrewAnn grew up competitively doing gymnastics and moved on to be a NCAA collegiate diver. Once she graduated college she stopped doing physical exercise and spent most of her time at a desk job that she did not enjoy. It was not until she experienced the sudden loss of a loved one that she realized she could no longer be spending her time this way. She quit her day job and decided to refocus her energy on something she did enjoy, yoga! She signed up for her first 200 hour training in June 2017 and it completely changed the course of her life. The sense of purpose and fulfillment that she feels while teaching has helped her realize that this is what she is truly meant to do. Once she took her first YOGAqua class it wasn't even a question whether she would sign up for teacher training and share this unique practice. DrewAnn has now completed over 700 hours in various yoga trainings and has even led them herself. Her classes will allow you to feel strong and bendy, while always setting you up for success! She is so happy to apply all of her experience and knowledge to the YOGAqua community.