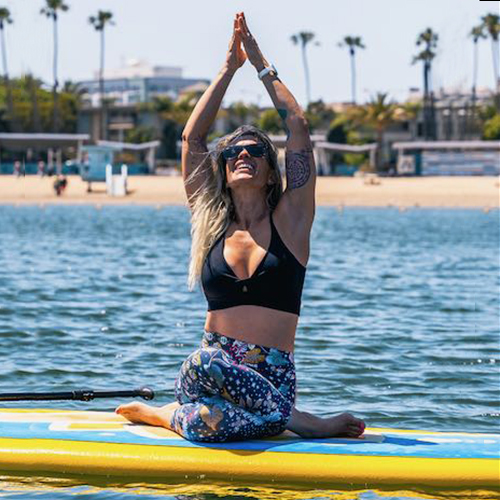 Sarah Tiefenthaler
Owner & Founder
Sarah Tiefenthaler, owner and founder of YOGAqua, completed her first 200-hour Yoga Teacher Training in the tropical jungles of Costa Rica where she focused intensely on the philosophy of Yoga as well as meditation practices. When she returned to Los Angeles, she completed her second 200-hour Yoga Teacher Training certification in Hollywood, CA at Earth's Power Yoga where she was able to expand her knowledge of human anatomy and alignment in relation to Yoga. After spending day after day in the magnificence of the Costa Rican jungle, Sarah still longed for any activity in which she could maintain a consistent presence in nature.When Sarah returned home from Costa Rica in 2010 she soon discovered her passion for Stand Up Paddleboarding (SUP); it was the perfect solution that would keep her out in nature, on the water, and under the sun. With her obvious passion for Yoga, it was not long before she began to experiment with Yoga poses on the boards which was just the spark that very quickly lead to the creation of her SUP Yoga company, YOGAqua. YOGAqua was launched on July 17th, 2011 and is based in Marina Del Rey, CA.
Sarah has since completed her third Yoga Teacher Training for 100 hours at Maha Yoga in Brentwood, CA. She offers SUP Yoga Teacher Training Certification courses four times per year as well as SUP Yoga Retreats at some of the most beautiful locations around the world and is the SUP Yoga Program Coordinate for Wanderlust and Mammoth Yoga Festivals.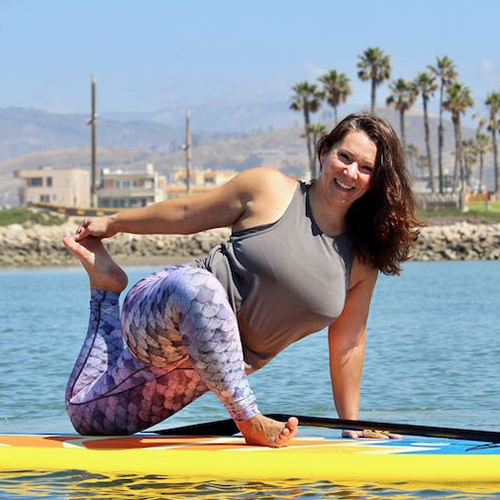 Stephanie Schwartz
Instructor
Stephanie Schwartz has always sought ways to bring balance, health, and fun into her life. Yoga has become an integral part of that process. It is a place where she can be herself, confident and comfortable in her body and its strength, along with its goofy inner core. A couple of years ago, on an adventure to the North Shore of Oahu, hiking with friends, Stephanie came across a floating yoga studio at a secluded beach. Intrigued, she carefully determined that no one was around, and quickly hopped on a board to play—and in a moment was hooked. Through a chance encounter with a yoga teacher who soon staked claim to the floating studio as her "office", a seed was planted. Back on the mainland, it took about a year before Stephanie found a local floating studio to make part of her regular practice—and subsequently learned that the owner, Sarah, was the same teacher she had crossed paths with a year before. The opportunity to join a YOGAqua teacher-training program presented itself a few months later and Stephanie never looked back. She is also a certified yoga instructor through the National Council for Personal Trainers (NCCPT). Most weekends you can find her practicing, playing and laughing in Marina Del Rey with the YOGAqua family.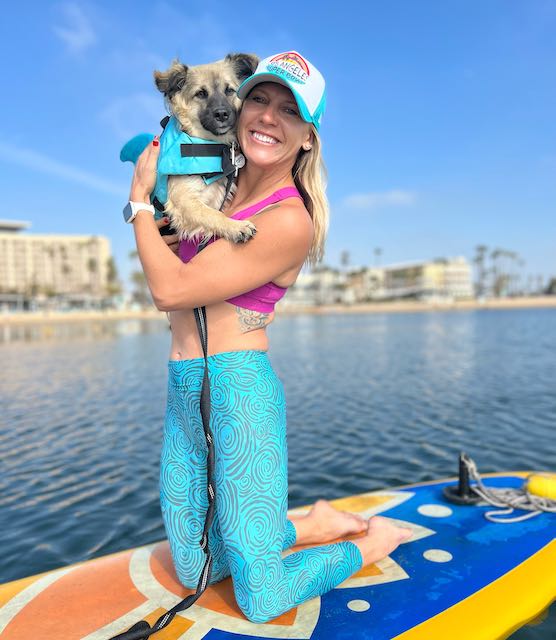 Growing up near the beautiful beaches of Southern California and Sydney, Australia, Karina Moore has always had a love for the ocean. As a child her passions included competitive swimming and gymnastics. Later in life she transitioned her workout to yoga (what she considers the adult version of gymnastics), which she has been practicing now for over 15 years.In 2012 Karina left Colorado and returned to her beachside roots, moving to sunny Redondo Beach, CA, where a neighbor introduced her to a standup paddleboard. Despite falling 3 times into the open ocean on her first foray, she was hooked. She felt a balance and stability that was both challenging and addicting. Countless days were spent embracing the cardio core workout of chasing sea lions, dolphins, and whales around the Pacific. One day a friend said "Did you know you can pair your two loves—yoga SUP?" She attended her first SUP Yoga class in 2013 and hasn't looked back. She has since been inspired to obtain her YOGAqua SUP Yoga teacher certification, as well as the RYT 200-hour teacher training certification during a month long retreat in Nicaragua. Balance on and off the mat (and board) is paramount to her. Karina leads classes with an inclusive approach, a heartwarming message, and a physical challenge that will leave you feeling accomplished.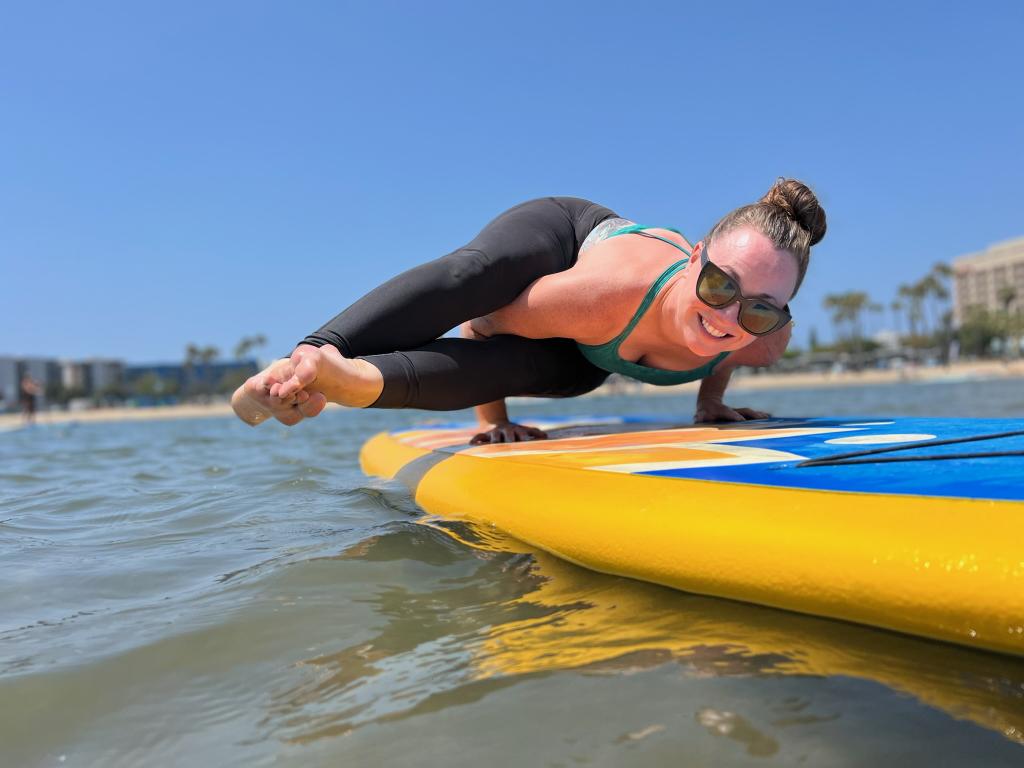 Courtney Regan has always lived and loved an active life. Growing up in Dearborn Michigan she was a dancer, competitive swimmer and played both basketball and softball. Her passion for athletics and movement took her to Tempe Arizona where she studied Kinesiology and Dance at Arizona State University. In a dance studio on campus Courtney took her first yoga class. It was hardly love at first down dog. In fact she giggled through half the class. A couple years later she gave yoga a second chance and found nirvana through asana. After years of personal practice Courtney decided to attend The Southwest Institute of Healing Arts and received her RYT 200. In the Summer of 2014 she decided to shake up her life and start a new adventure with a move to sunny Santa Monica. It was here, at Mothers Beach, she was introduced to SUP. She had never experienced such excitement and peace as she did on the board out in the water. It was time for a new adventure in 2016. She found YOGAqua and immediately registered to train with Sarah. Courtney's classes are a reflection of how she lives, balanced. Courtney enjoys teaching athletic classes that are mindfully sequenced for all levels of experience. She wants her students to find the same excitement and peace she does in her own practice. Most of all Courtney wants her students to find pure joy; on the water, in the sun, experiencing SUP yoga with YOGAqua!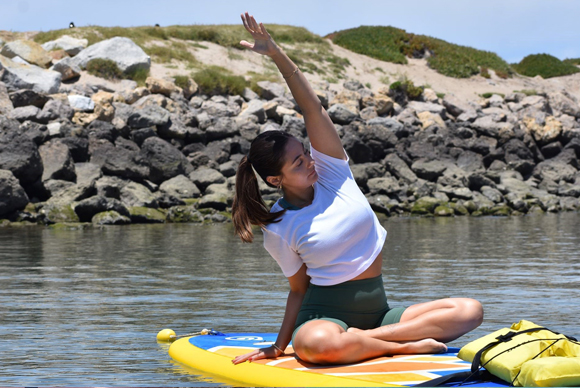 DrewAnn grew up competitively doing gymnastics and moved on to be a NCAA collegiate diver. Once she graduated college she stopped doing physical exercise and spent most of her time at a desk job that she did not enjoy. It was not until she experienced the sudden loss of a loved one that she realized she could no longer be spending her time this way. She quit her day job and decided to refocus her energy on something she did enjoy, yoga! She signed up for her first 200 hour training in June 2017 and it completely changed the course of her life. The sense of purpose and fulfillment that she feels while teaching has helped her realize that this is what she is truly meant to do. Once she took her first YOGAqua class it wasn't even a question whether she would sign up for teacher training and share this unique practice. DrewAnn has now completed over 700 hours in various yoga trainings and has even led them herself. Her classes will allow you to feel strong and bendy, while always setting you up for success! She is so happy to apply all of her experience and knowledge to the YOGAqua community.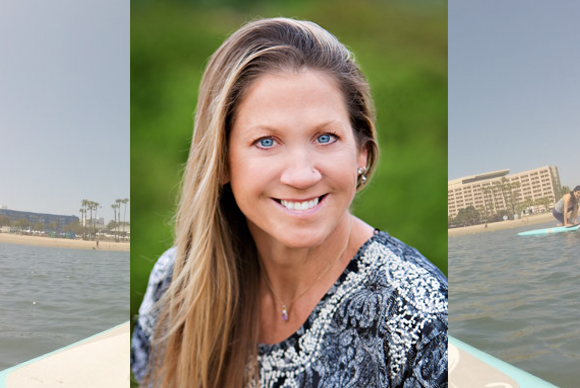 Michelle Gierst
Instructor
Michelle has been stand-up paddling, surfing and practicing yoga & Pilates for many years. After getting Pilate's certified with PSC in California (PMA 550 Certified), she decided to advance her practice by getting yoga certified with Yoga Mittra School in Manhattan Beach, California (RYT 300). Michelle decided to also advance her skills with a certification in SUP Yoga training in 2011. Michelle's love of the ocean and of yoga combined brought her to start teaching SUP yoga in the Southern California back in 2010 but has been Stand UP Paddling since 2008. SUP yoga changed everything and brought her practice back to ground zero. Michelle soon realized the benefits of "FLO YO" (floating yoga on and off the water) and wants to share this love with as many people as possible.
Michelle was fortunate enough to be able to teach at Wanderlust Yoga festivals all over the country over the last five summers. Working directly with Sarah Tiefenthaler and Wanderlust managers to host Stand Up Paddle Yoga classes for hundreds of Sup Yoga enthusiasts.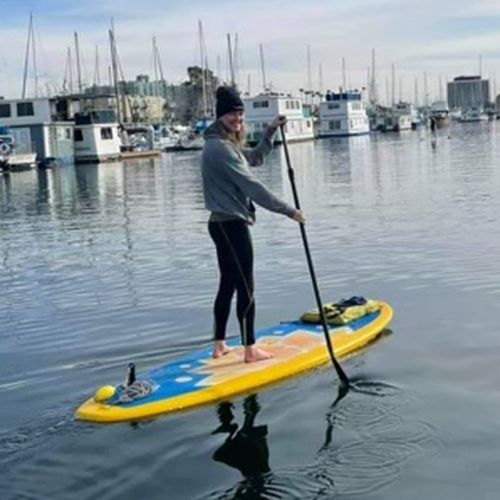 Paige Van Riper
Instructor
Paige has always been an avid lover of nature and the outdoors ever since growing up in the Colorado Rockies. She is drawn to all forms of water, but particularly the ocean.
Twenty years ago Paige tried ocean kayaking and immediately fell in love. She eventually became a kayaking instructor, helping others learn the sport and assisting with trips to the Channel Islands and other locations. She spent the better part of most weekends on the water.
It was around that same time that Paige started her yoga practice and has continued it over time. Paige found she much preferred doing yoga outdoors and connecting with nature. She sought out opportunities to practice everywhere from parks to the beach.
When Paige tried stand up paddle boarding she instantly fell in love. She loved the view and perspective you get from a standing position. She enjoys the challenge of the sport. When she came across a Yogaqua class several years ago she immediately signed up and has been a regular ever since.
When Paige isn't taking a SUP yoga class or leading a sunset paddle she can be found assisting with paddle board trash clean ups in the Marina and volunteering with other activities to help improve the ocean and the planet.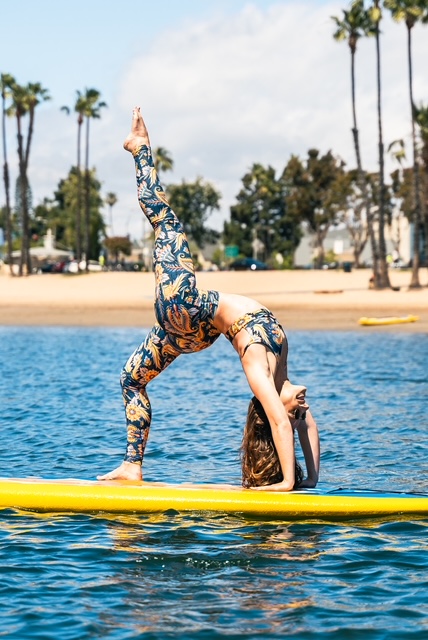 Jessica Stenhouse
Instructor
Jessica has always had a passion for movement. She grew up outside of Atlanta, GA, where she tumbled and flipped around her childhood home until she was old enough to join a competitive gymnastics team. Her passion then led her to pursue soccer, basketball, and cheerleading. Later in life, Jessica attended college at the University of Georgia. There, she began learning about yoga at the hot yoga/pilates studio on campus, where she ended up spending most of her time. Once the end of her senior year approached, she aspired to complete her Yoga Teacher Training (YTT) abroad. Unfortunately, the pandemic put a halt to these plans, leaving her to fulfill her drive at home and complete her YTT online. Her post-graduation job brought her to California; soon after, she stumbled upon YOGAqua and was instantly hooked. After volunteering a bit, she took the SUP Yoga Teacher Training and has been an instructor with YOGAqua ever since. She is excited to deepen her yoga practice and creativity while spending time with the YOGAqua community!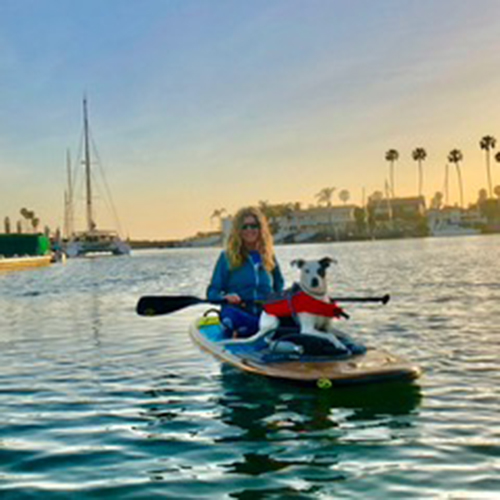 Leslie began her love for yoga in the late 90's. She received her 200 RYT certification in 2004 with the Yoga Alliance by The Yoga Channel school, in Silverstand Beach, CA. She immediately felt a sense of purpose and belonging to the yoga community. As a young girl Leslie spent most of her weekends in Marina Del Rey and Ventura sailing with her family. The ocean has always been her "happy place".
She began paddle boarding as another form of outdoor activity in 2017. When she tried SUP Yoga for the 1st time in Mammoth, California in 2021 she immediately fell in LOVE! Her two favorite passions, yoga + the ocean all wrapped up into one! After leaving the Mammoth Yoga Festival in 2021, Leslie was committed to becoming a certified SUP Yoga Instructor. In January, 2022 Leslie completed Yogaqua's SUP Yoga Certification course.
Her classes are a combination of embracing nature while we glide to our SUP yoga haven. Once we arrive we will enjoy a well balanced class of relaxation, appreciation for the ocean and a yoga practice to ignite the mermaid/merman within each of us.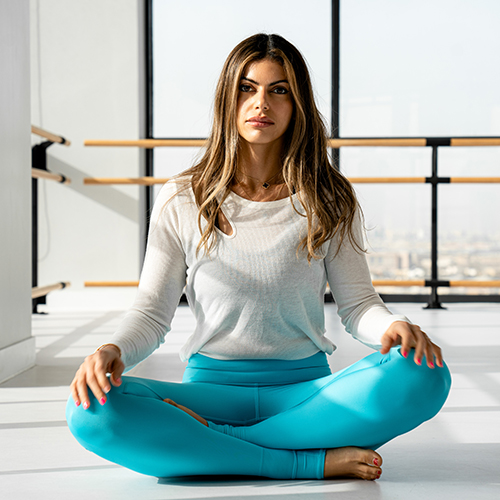 Kay is known for her approachability, humor, and ability to empower her students. It all began with a low back injury that led to a class in a yoga studio, and slowly blossomed into a transformational experience, a thirst for knowledge, and focus on
health and wellness through the vast practice of yoga. Kay is a 500 RYT, 40 hr aerial yoga, 40 hr yin yoga, 40 hr SUP yoga training, and 20 hr lyra certified. One morning, Kay was enjoying Mother's Beach and started seeing people practicing yoga on the water. Kay's curiosity had her researching online to see what the class was about, and stumbled upon YogAqua. Kay instantly signed up for a class package and from the first time she tried SUP yoga, she instantly fell in love with the scenic beauty, the challenge, and the connection with the practice of yoga on water. This built Kay's curiosity even further, and she wanted to deepen her understanding and knowledge of yoga on the water, and in turn Kay signed up for the SUP yoga teacher training with YogAqua. Join Kay's classes and you will leave feeling relaxed, reconnected, and rejuvenated!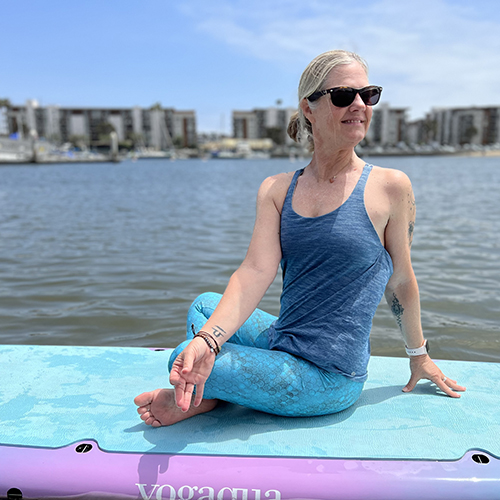 Kelly has been a student of yoga for 30 years and a teacher for 20. Kelly is ERYT500, has taught kids to seniors, co-lead teacher trainings, ran her own studio, and continues to learn and evolve with her practice. She is so happy to add SUPYoga to her many teaching experiences! Getting outdoors into nature is a top priority for Kelly, and she believes sharing and encouraging others to do the same is one of the most healing, supportive endeavors she can offer. "My intention is to teach with clear, inspired instructions that provide students a safe space in which to move, breathe, and connect to deep, subtle layers of self – and keep having fun!!" Join Kelly on the water for a unique body/mind/heart experience, and you'll leave feeling empowered and better connected to yourself, others, and the world around.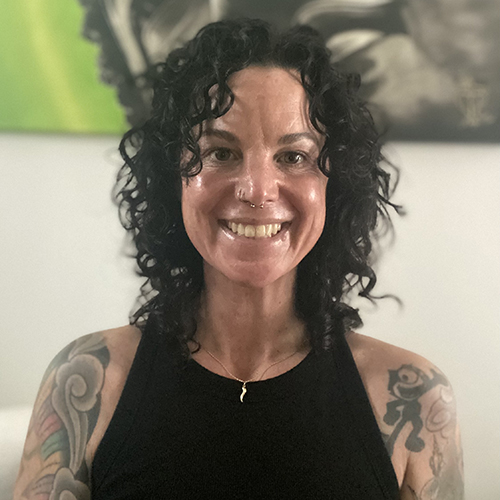 Sarah Colesanti
Instructor
Sarah E. Colesanti developed a love of Yoga in college, when after giving up gymnastics, she wanted something that could combine her love of inversions with flexibility and strength work. Trained under Fran Ubertini, Sarah brings a passion for whole body well-being through her background as an Exercise Physiologist, Certified Yoga Instructor, Licensed Massage Therapist and Reiki Master Teacher. Her classes emphasize breath with movement, correct alignment, strengthening and elongating the spine and offer adaptations to help everyone experience the positive effects of yoga on the body.
Sarah holds a Bachelor of Science in Exercise Physiology from East Stroudsburg University and an Associate Degree of Applied Science in Massage Therapy from SUNY-Orange. She received her 200-hour Yoga Teacher Certification under Yoga Alliance at Yoga for Well-being in New York in 2007, and has pursued extensive post-graduate continuing education in Cranial-Sacral Therapy, Manual Lymphatic Drainage, Yoga for PTSD (15 hours), Traditional Thai Massage (28 hours), SUP YOGA Teacher (40 hours), and Usui Reiki Master Healing.