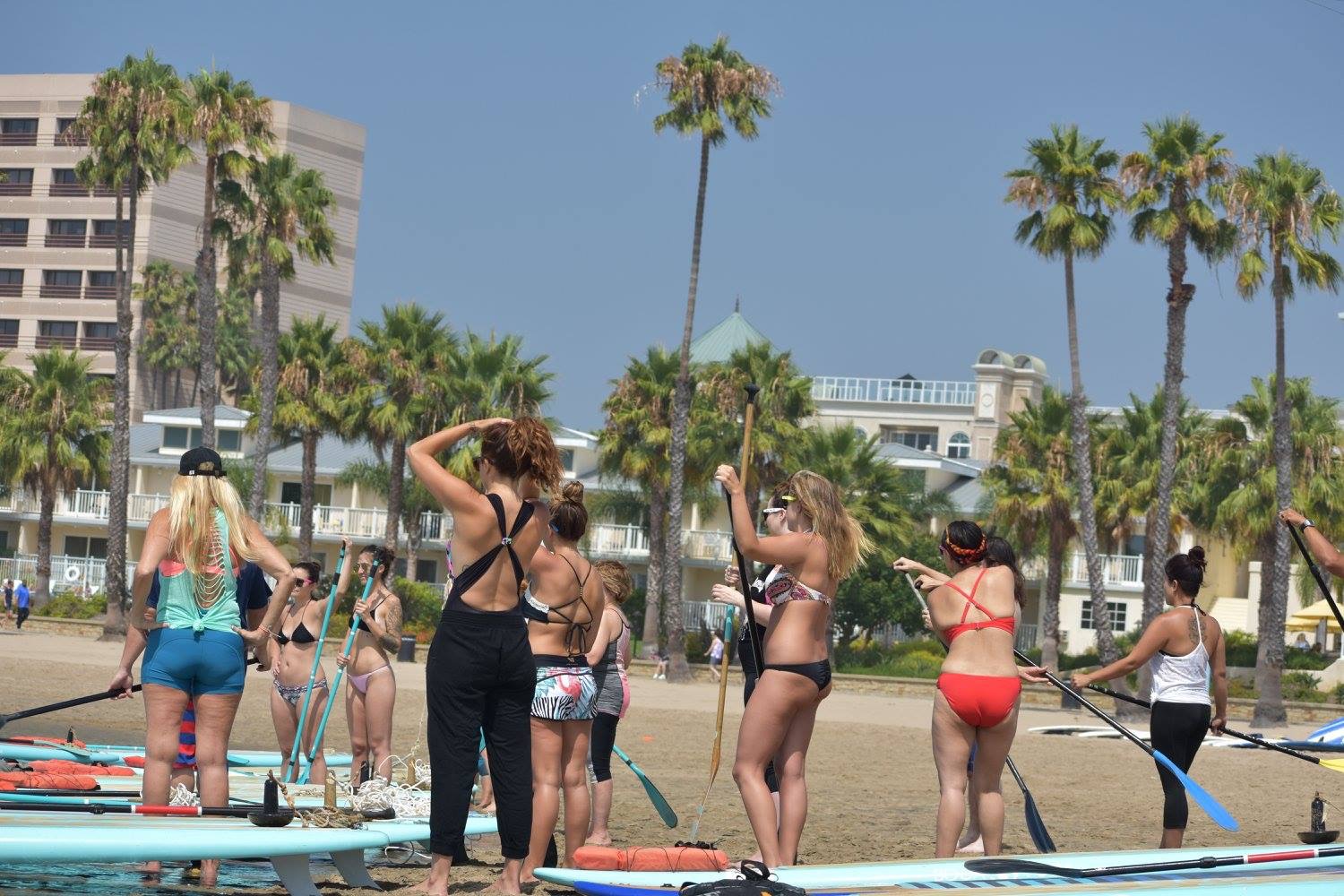 A YOGAqua class is 90 minutes long.  The first 30 minutes is dedicated to learning how to properly use a paddleboard and peacefully paddle around the harbor.  The remaining hour is dedicated to yoga on the paddleboard.  Each board has an individual anchor that is dropped down before the Yoga portion of class begins so that the student does not drift away while focusing on their practice.  YOGAqua classes are open to "all levels".  Students are taken through a Vinyasa Yoga flow with customized and detailed instruction for the paddleboard so even if they have not been practicing yoga for years, or if they have never been on a paddleboard, they will be able to follow along with no problem.  A single class costs $44, however, deals and class packages are offered throughout the year.  The cost of a class includes all the equipment needed, however, if you would like to bring your own board, the price is only $30.
PRICING
Single Class (includes equipment): $44
Single Class BYOB (bring your own board): $30
Intro 3 Pack (new students only & must be your first purchase): $90 ($30 per class)
5 Pack: $175 ($35 per class)
10 Pack: $295 ($29.50 per class)
CLICK HERE to register for a group class. 
CLASS LOCATION
13977 Palawan Way Marina Del Rey, CA 90292
Heading west on Washington Blvd., turn LEFT on Palawan Way. Pass over Admiralty Way. The beach will be on your RIGHT and Parking Lot 9 will be on your LEFT. There is a pay station as you enter the parking lot, it is $1.00 per hour. You will be able to locate your class in the parking lot, just look for the YOGAqua truck.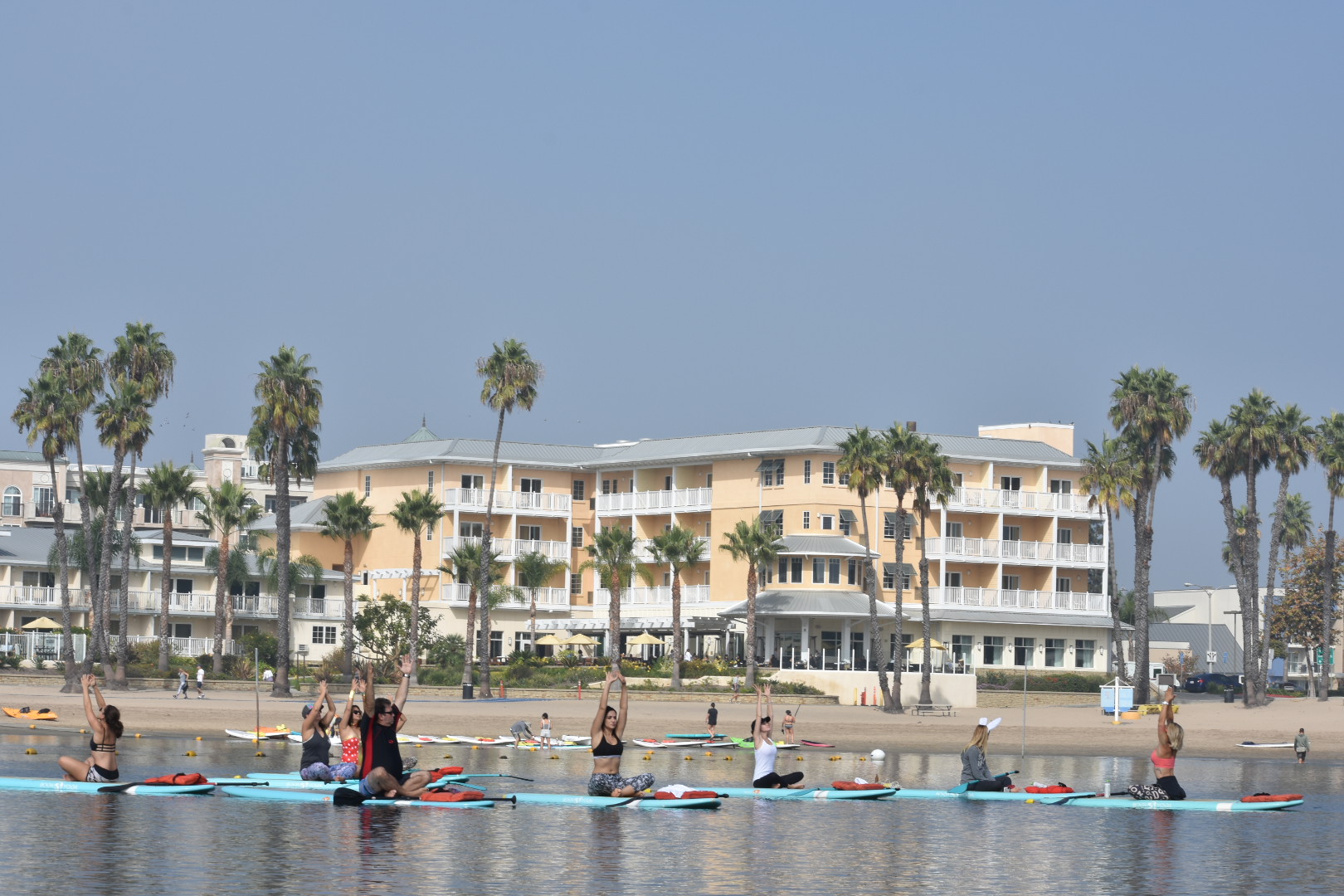 FAQs:
Q: What if I've never done yoga before? Can I still take the class?
A: Yes, it is still possible for you to take the class, however, I do recommend you taking at least one basic yoga class prior just to have a general understanding of the postures.
Q: What if I've never been on a Stand Up Paddleboard?
A: Still come! The first 30 minutes of class provide you with thorough paddle instruction and the opportunity to paddle around the harbor. This gives you the chance to get comfortable on your board before the Yoga portion of class begins.
Q: What should I wear?
A: I recommend lightweight Yoga attire.  Particularly shorts or cropped pants.  In the Summer, some people chose to wear a swimsuit and that's fine too!  Wear what you feel comfortable in.  However, on colder days, bring something long sleeved.  If you get warm while you're out on the board, there are bungees on the front of the board where you can fasten your top (and any other items) safely.
Q: Should I bring anything?
A: All the equipment needed for class is provided. However, it doesn't hurt to bring a towel and perhaps a change of clothes just in case. Whether you fall in or not, your clothes will get a little damp either way.
Q: Is the ocean water really cold? And do people fall in?
A: It just depends on the time of year. During the Summer, the water gets very warm but during the Fall and Winter it will of course get cooler. The good news is, you will be spending little to no time in the water. When class begins, you will walk out about knee deep, then you will hop on your board and go. As far as falling in goes, it happens a lot less than you think-sometimes no one falls in at all. But if you do, just hop back on your board and let the sun do it's job to warm you up. Splashing occasionally is all part of the fun, it teaches us to let go and not take ourselves too seriously.